About Friends of Rowan Creek
Mission
To restore, enhance, protect, and promote the unique characteristics of Rowan Creek and its watershed.
Goals
Our goal is to provide education, outreach, and watershed protection and enhancement in the Rowan Creek watershed.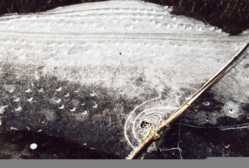 Ice on Rowan Creek.
Photo by Ira Kastenberg.
Past and future activities include:
identification and removal of weedy plant species such as garlic mustard;
native landscaping demonstration garden;
public lectures on issues relevant to watershed protection;
tree planting on creekside park land.
Organizational development:
training, attaining nonprofit status, grant writing;
educational activities such as wood duck and bluebird house construction, a fish survey demonstration, and interpretive nature hikes;
development of an interpretive nature trail;
design of a watershed bike route;
participation in Wisconsin DNR planning efforts for future management activities;
cooperative activities and planning with local governments.